As soon as the name Honda is uttered, we get this feeling of reliability the Japanese car giant has kept intact for its 26 years of journey in the field, and the 2023 Honda CR-V Hybrid looks to do just that.
Honda CR-V is no joke, and we have already experienced the power it holds in the Compact SUV terrain, but this Hybrid of it may as well be the best one to come out of the promises Honda has given out.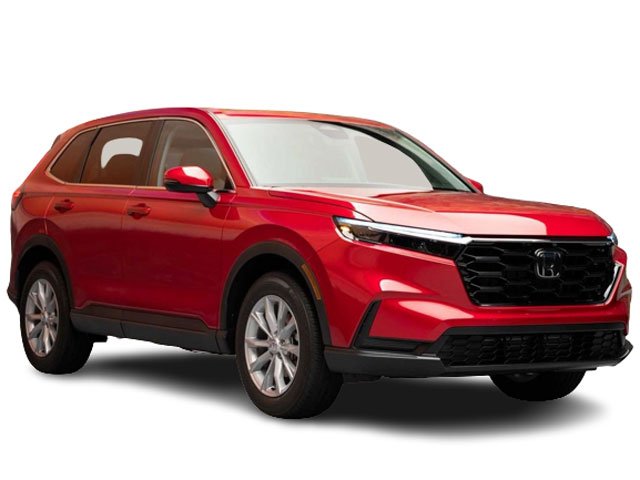 We know you are curious as us about the all-new wildly talked about Honda CR-V Hybrid. Hence, we bring to you everything you need to know about the variant of Honda CR-V 2023 and will let you decide which variant of the compact SUV you should pick to grace your garage.
If you have a biased nature against hybrid cars, then this car might be the one that finally makes you into a believer, so join the bandwagon.
When will Honda CR-V 2023 Hybrid be released?
The much-awaited and widely searched Honda CR-V 2023 Hybrid is hitting dealerships this month, and car buffs need not look further or wait longer you can book your car immediately or visit your nearby Honda dealerships to know first-hand how the Hybrid is.
How much is Honda CR-V Hybrid 2023?
Many think that hybrids are a lot more expensive than the standard ones and thus drop the plan of going for them, but that is not the case.
Well, it is, but it comes with a valid reason. The Hybrid Sport model starts at $33,695, and if you are going for the all-wheel drive in it, then it adds another $1,500, and still, it remains only $1000 dollar higher than the non-hybrid base EX model.
Sport Touring Hybrid is what tops the price chartings this year which begins at a price of $39,845, but it comes humongously valid with the best features you can think of in a hybrid, and it is never wrong to indulge a little.
Even with all the added features, with better efficiency, and power, it just costs $4,840 over the non-hybrid EX L model.
What is new in Honda CR-V Hybrid 2023?
Honda went all out with this year's 2023 Honda CR-V Hybrid, adding more features that were never seen in the non-hybrid variants.
Well, considering that they have made it their new flagship, they will not be holding back, and it looks like Honda has decided to give the loyal customers more than just a nudge towards the electric versions this time.
Given that it has planned to make at least 30 all-electric versions in the future, this comes as expected from our Japanese brothers.
Under the hood
Even though the previous hybrid versions of the SUV did not satisfy or keep up with their non-hybrid variants, this year, it may have outdone itself and other variants and held the gaze of car buffs.
When it comes to power and efficiency, every Hybrid variant of the 2023 Hond CR-V has been equipped with a 2.0-litre Atkinson-cycle gasoline engine with notable improvements in cooling, power and noise criteria which were lacking before.
The Hybrid also sends 204 hp and 247 lb-ft of torque to the wheels via a continuously variable transmission.
While the default Hybrid variants come with front-wheel drive, the Sport Hybrid Touring variant alone starts with all-wheel drive as its default.
But other hybrid variants can add all-wheel drive to the mix by paying an extra $1,500. Well, if you are looking for an excellent fuel-efficient version, then all-wheel drive might be the choice because it gives 40/34 mpg (city/highway) compared to 43/36 mpg in front-wheel drive.
Interior
Everything else stays the same for the non-hybrid and hybrid variants, excluding the powertrain. The car has become spacious, and even the second row gets extra legroom. 
The other benefit added to the driver's seat would be the better-positioned wing mirrors and A-pillars. The infotainment clutter goes through some remodelling to offer a modernized look and tech. 
The compact SUV gains some weight to its structure by expanding 2.7 inches longer and 0.5 inches than the previous generation. 
The legroom in the second-row increases by 0.6 to 41.0 inches, and the cargo space exceeds 6.0 to 39.3 cubic feet with the second row in function, and when folded, it could free up to 76.5 cubic feet.
The new CR-V's rear seats are now reclinable in 8 positions, and the front seats get some remodelling to make them more comfortable, and apparently, the car geeks can swear on it.
With the tweaks in the engine and added noise cancellation systems, and sound absorption materials stuck throughout the interiors, the compact SUV has made sure the passengers are immune to any disturbance.
The 2023 Honda CR-V 2023 comes in a compact SUV 5-seater version. The non-hybrid variant matches up to the stylings of the Volkswagen Tiguan, and the hybrid powerhouse matches up to Toyota's RAV4, Ford's Escape, and Hyundai's Tucson.
If you are in the market for a compact SUV Hybrid and looking for something to give you the fun of riding while giving you comfort and reliability, then go for it. But things are always left to discover on your own, so visit your dealerships asap and get a feel of the SUV yourself.
To know more about such powerhouse of vehicles and everything and all that is auto, stay tuned with Autoscooper.
FAQ
How much does Honda CR-V cost?
Non-hybrid variants begin at a price of $32,355, and hybrid variants start at #33,695. All-wheel drives are optional and available at an extra price of $1,500.
When will the Honda CR-V Hybrid be released?
Honda CR-V Hybrid will be available in every dealership near you by the end of October. 
Is Honda CR-V Hybrid a good car?
The reviews of the SUV have been raving since its introduction, and it is one of the best options available with updated features and efficiency.
Latest posts by Beautlin Sam
(see all)