It's time we get a family car out of Ferrari because, come on, we cannot stay alone all our lives, and die-hard Ferrari fans aren't switching to another car company, so it's time Ferrari Purosangue 2024 drops and ease our spirits.
Ferrari announced its first-ever 4-door car and SUV this year. Ever since the announcement, car buffs worldwide have been eagerly awaiting more details on when it will be available for them to take it to the road and flaunt their newest Ferrari addition.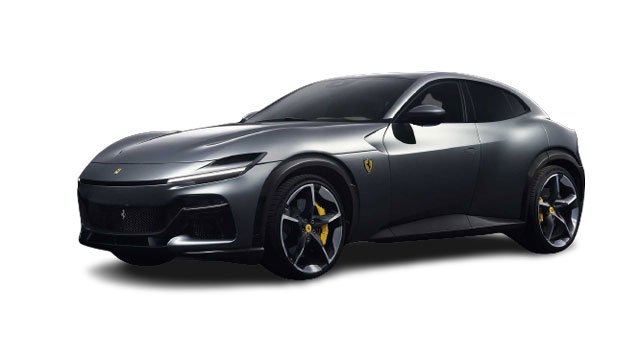 While Aston Martin is also coming up with its newest version of DMX and an additional variant, DMX 707, next year, Ferrari is expected to see its power in the market tested as car buffs worldwide have already got the taste of Aston Martin SUV.
While every luxury car giant wants another Porche Cayenne, we must wait for Ferrari to drop its first-ever SUV to know if it can measure up.
When will Ferrari Purosangue 2024 be Available?
While Ferrari Purosangue 2024 was supposed to begin production in the year 2022 after its unveiling this year, but as of now, updates have yet to be given on the exact date or month of release.
But the brand new SUV is set to be available for booking in 2023, making it Ferrari Purosangue 2024, so it's alright, you have waited years, just hold on a little longer, and you can make a Ferrari SUV yours.
What is the price of a 2024 Ferrari Purosangue?
Well, it is the first four doored vehicle from Ferrari, and not to forget, it's their first SUV too. As of now, no price chart has been announced officially, but you can expect it to reach the $500,000 mark.
But after taking into some costs of production and what will be added to the mix, some experts have guessed it to fall between the $250,000 and $400,000 price range.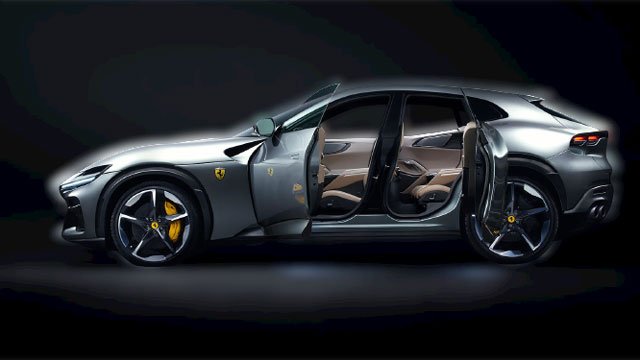 Anyway, it's their first-ever family car, and to be honest, we know Ferrari will want to impress big time because it is time they get on the SUV craze because the whole world is after it like a bee drawn to honey.
It is time even the uber-rich chose SUVs, too, as Lamborghini, Bentley and Rolls Royce have already ventured into the deep trench of an area called SUV and have succeeded at it.
What are the new features of Ferrari Purosangue 2024?
While this SUV marks Ferrari's first SUV and four-doored car, we are sure Ferrari will go all out with every feature it could conjure up to make its mark on the changing, fast-paced market of automobiles.
What Ferrari seems to get the passengers interested as of now is the stunning massaging front seats which is a big attraction, particularly for the ones that would travel often or long. 
Those who love sunny rides may choose between the electrochromic glass roof and other such features. When it comes to luxury brands like Aston Martin or Ferrari and such, personalisation is the biggest asset.
So, pick all the best features out there, and you know Ferrari will deliver no matter what, so just get ready to put together the best SUV possible.
What are the specs of the Ferrari Purosangue 2024?
The SUV comes with a 6.5-litre V-12 engine and a 715-hp twelve-cylinder. The engine pulls a 528 pound-feet of torque which can power the SUV to 62 mph in just 3.3 seconds. 
While Ferrari is said to make its SUV the fastest one on land, we have yet to confirm any of these promises as no one has yet gotten to drive the vehicle.
One of the most significant drawbacks as of now is that the Purosangue will be the least fuel-efficient vehicle to come out of Ferrari. Now, this is quite common, given the car giant is experimenting with a new range, and it may take some time to work on the quirks.
While the official chart has yet to be out, experts make these estimates based on what other supercars have been giving out when they ventured into the SUV zone. Bentayaga and Urus right now give about 12 mpg in the city and 17 mpg on the highway and a combined value of 14 mpg, which can be the same that we can get out of Ferrari Purosangue.
Interior of Ferrari Purosangue 2024
Needless to say, the materials used inside will be top-class Ferrari-worth materials, and you can opt out of the sunroof and go for the regular one too. But the SUV comes with a four-door style vehicle, which will be Ferrari's first ever.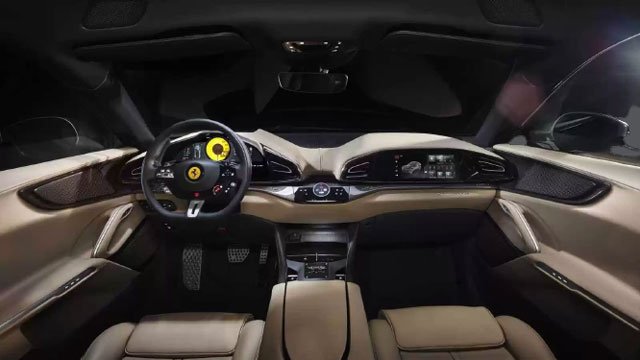 The car is now set to retain its two-door image by adding a slick, rear-hinged, coach-style door. The seats are individually placed in both rows, so there is no room for a fifth person to squeeze in.
The most significant change would be that there won't be any centre-mounted infotainment touchscreen. While there isn't one in the centre, it does not necessarily mean it's bad because you still have a 10.2-inch digital gauge cluster and a separate 10.2-inch screen before the first-row passenger.
While this is the information we could conjure up about the upcoming Ferrari's first-ever SUV, we would like you to stay connected and inform you of everything else that happens here in Ferrari and the whole realm of automobiles.
Stay tuned to Autoscooper for more.
Ferrari Purosangue 2024 
FAQ
When will Ferrari Purosangue be available?
Ferrari Purosangue 2024 will go into production in 2022 and be available for a trial run and for booking in 2023,
What is the price of a Ferrari Purosangue?
While no official announcements have been made, some experts have guessed it to fall between the $250,000 and $400,000 price range.
Is Ferrari Purosangue a good car?
Yes, with Ferrari comes class and luxury so you can trust the brand. Except for low fuel efficiency, there is no drawback, which seems to be typical in all luxury SUVs.
What type of car is Ferrari Purosangue?
Ferrari Purosangue will be the first-ever SUV and the first-ever four doored car to come out of Ferrari, which can seat 4 four people.
Latest posts by Beautlin Sam
(see all)