The coming 2024 Bugatti Chiron – Bugatti Mistral is the final W-16-powered car from the legendary brand Bugatti. In Bugatti's history, CHIRON is the most powerful, fastest and exclusively produced super sports car.
Its advanced design, innovative technology, famous and well-known, performance-oriented form make it a unique masterpiece of art, form and technique.
World's fast open-top production
Based on the Chiron coupe, the roofless Mistral makes the 2024 Bugatti Chiron the fastest open-top production in the world.
Bugatti Mistral will manufacture only 99 cars. Mistral's cost $5 million; deliveries should begin in 2024.
About 2024 Bugatti Chiron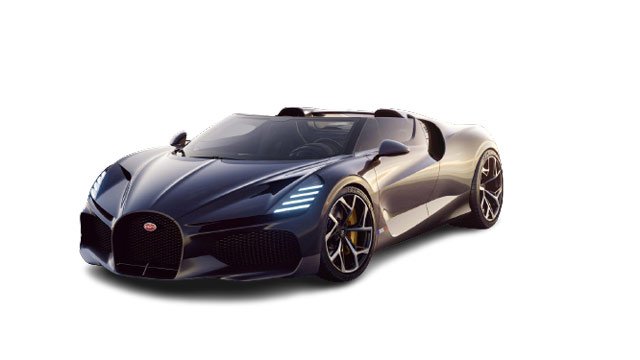 The 2024 Bugatti Chiron is the fastest-produced car in history, even though it was just launched. In the next few years, they expect to sell around 1200 cars.
According to Bugatti's CEO report, the car will arrive as soon as 2024. The 2024 Bugatti Chiron is the fastest in the world and can accelerate up to 60mph in 2 seconds.
Bugatti Chiron does not have a manual gearbox. Its speed is 261mph. Lots of colour combinations selections are available, from leathers to luxurious metals. Every Chiron looks unique, like its owners. There are special personalised features and embroidery available.
2024 Bugatti Chiron Specification
Engine with 8.0-litre quad-turbocharged W16, power of 1,600PS (1,187kW) @ 7,000rpm.
Eight-speed double-clutch automatic transmission.
Kerb weight of 1,995kg. Top speed of 273mph.
Fuel economy of 13.2mpg. CO2 Emissions – 487g/km.
2024 Bugatti Chiron Engine
As the engine has a specification of 8.0-litre quad-turbocharged W16, power of 1,600PS (1,187kW) @ 7,000rpm, there will be no need for more energy, can work with less power.
The engine is so powerful. The Bugatti Chiron Engine is the existing W-16 engine.
The heart of the Bugatti Chiron is the w-16 engine. The w-16 engine is a masterpeice.
W-16 engine has features of four turbochargers and produces a horsepower of range 1578.
Turbos are large and effectient. It was created with a range of modifications to the gear valve, cylinder heads, and oil pumps.
For every minute, 60l air is pumped through the engine.
For every minute, 800l water is circulated through the engine, which is the CHIRON'S heart, to cool the engine effectively and to produce tremendous power.
A new exhausted system has been introduced, a titanium system with lower gas back pressure, furtherly boosting the vehicle's performance.
In every possible area, titanium and carbon have been used to maximise the engine speed.
It has the same output as the Chiron Super Sport 300+ and set a production car speed record in 2019.
The 2024 Bugatti Chiron Engine has a 16-Cylinder in W configuration. It has quad turbochargers with 2-stage turbocharging of power 1500 HP.
Engine power reaches through a seven-speed dual-clutch transmission.
2024 Bugatti Chiron Interior
The 2024 Bugatti Chiron Interior design provides a high safety level and comfort in hyper form.
According to the company's report, The 2024 Bugatti Chiron has a luxurious interior design.
Bugatti will have two premium leather seats. The cabin features aluminium and carbon finishes.
The Bugatti Chiron interior design will not be different from the previous versions. It shares the previous version's dashboard, steering wheel and instrument cluster.
It provides a comfortable place even though it is lighter than its coupe counterpart.
While running an engine requires a cubic meter to breathe.
2024 Bugatti Chiron Exterior
The 2024 Bugatti Chiron Exterior design is impressive and has a luxurious look.
The main discovery is THE SKY's new dimension. It will give an incredible feeling of speed and a three-dimensional experience.
The Sky-view option is designed based on CHIRON's attributes. It is hard to find a car with this exterior design.
Performance of 2024 Bugatti Chiron
It has new cutting-edge technologies which make it different from the other cars.
At the top, the super spot has more power, and peak revs range from 6500+ to 7100rpm.
The Bugatti Chiron Mistral can adjust the ride's height automatically for the stable car.
With air brake, it deploys the rear wings when it is necessary to accelerate at high speed.
Bugatti Chiron Accessories
In Bugatti's history, the fastest, most powerful, super sports cars have been included. It requires accessories. Bugatti Chiron accessories are available now with a two-year warranty.
The Bugatti Chiron Accessories are an Upgrade package, wheels, break-callipers, grills and vents, horseshoe, wing mirrors, exhaust tip harm real light trim, engine covers, door sills, centre console inlays, and car care products.
Upgrade Package is available for Chiron and has a performance and sport retrofit package.
Wheels Accessory has classique colours.
Brake Calipers available for Chiron, Chiron Sport and Chiron Pur Sport
Grills and Vents with Black Mesh and Mirror shine finish Mesh.
Exhaust Tip trim is available for Chiron, Chiron Sport, and Chiron Pur Sport in two colours, Grey and Black Coated.
Rear Light Trim is available for Chiron, Chiron Sport and Chiron Pur Sport with polished aluminium, nocturne, and gun powder.
The engine covers are available in three colours cast grey, french racing blue, and Italian red.
Door sills are available with aluminium, black carbon fibre with no inscription and chrome inscription.
Center console inlays – inscriptions and leather are available in all interior colours.
Car Care Products are available for Chiron, Chiron Pur Sport, and Chiron Sport.
FAQ Questions
What Bugatti model is sold more worldwide?
Chiron and Bolide models are sold more worldwide.
What is the price of a Bugatti?
Buggati Veyron is the lowest-cost car, and the highest one is Buggati La Voiture Noire.
How many colours are there in Brake Calipers Accessories?
There are ten colours: cast grey, nocturne, grenade, Atlantic blue, blanc, french racing blue, Bugatti light blue, Italian red, tangerine, and Jaune molshiem.
What is the use of buying a 2024 Bugatti Chiron?
The 2024 Bugatti Chiron Mistral is more powerful; compared with previous versions, it has excellent performance, interior and exterior design etc.
Latest posts by Beautlin Sam
(see all)