Mazda has its own ardent followers, and it has established itself as a reliable and definitely efficient car brand that users across the globe opt for without a doubt, and Mazda's MX-30 joined the line last year.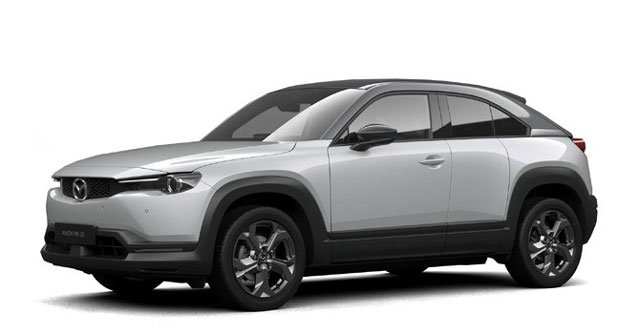 It is safe to say that Mazda has established itself as a strong rival in the SUV category, and you could see it rank on top of every SUV ranking list around.
Mazda, the revolutionary brand, introduced its EV a year back, and it has already sold out now, some lows it had has been fixed, and the SUV is nearing perfection with the new editions.
Mazda fits well with the word groundbreaking, and that's what you would call it if you know what it has planned with its rotatory motors.
What type is Mazda MX-30 2023?
While the previous model year version, the Mazda MX-3O 2022, was fully electric, the legendary brand offers plug-in hybrid models for Mazda MX-3O 2023.
Was Mazda MX-30 2022 a success?
Even though the fully electric Mazda MX-30 of 2022 is sold out, there are some areas it could've done way better if it intended to rival other SUVs in the area.
The most unimpressive part of the MX-30 last year was that the battery capacity for the fully electric car was just 100 to 124 miles which is way less compared to what rival companies offer.
But all is not lost for Mazda MX-30.
What is new for Mazda MX-30 for 2023?
The new updated Mazda MX-30 is set to surpass the previous version, with Mazda bringing back its famous rotary engine to push the miles offered beyond 200 as its competitors.
The rotary is set to act as a generator which will keep the inefficient battery of MX-30 charged for longer, thus extending the miles the EV can cover.
What is the range Mazda MX-30 2023 offers?
Well, the 2022 Mazda MX-30 offers 100 to 124 miles, while the new plug-in hybrid models are set to provide a range of 248 miles per charge.
Mazda has plans to make this happen by bringing back the rotary to the mix, and to be honest, it is just a phenomenal idea.
When will the Mazda MX-30 launch in 2023?
The new models with rotary and plug-in hybrid are supposed to be introduced in the month of January in 2023, and you can start booking or seeing models by March 2023.
But we will get a clearer picture in January 2023, so stay tuned to know more.
What are the changes Mazda MX-30 will get in 2023?
Other than the severe upgrade in the powertrain and efficiency, it is also said that Mazda MX-30 will be getting both interior and exterior changes.
With a lot going on for Mazda with the rotary back, it can now join the race of EV-powered vehicles, and we could see it topping all of them off with its greener, smoother and praise worth and sensational rotary engine making a comeback.
From the paint colours offered to the interiors, everything goes through at least some change as Mazda is preparing for a whole new relaunch into the EV sector.
With its renowned rotary back in the loop, Mazda can now add it to all the EVs and other hybrids bringing in the heat it needed fervently.
What are Mazda MX-30 rivals?
While Mazda MX-30 was falling behind in the efficiency department, it did not cross the 10th position among other vehicles in its league.
But now the tables have changed, and as we wait to get more information, as of now, Hyundai's Ioniq 5, Toyota's bZ4X and Volkswagen's ID.4 are its biggest competitors.
If you are in the market to snatch the new updated Mazda MX-30, then you might have to wait a little longer for accurate dates, so as you wait, stay tuned with us, and let Autoscooper be your guide.
Latest posts by Beautlin Sam
(see all)